Asset Management Service
ORIX boasts in-house professionals in fields like banking and finance, law and real estate, offering diversified high-quality services including financial management advisory, diagnostic, analysis and consulting business (exclusive of accountants and securities consulting businesses), investment management consulting business, development and assessment of real estate investment.
As real estate market demand is going global, ORIX leverages its global presence to efficiently serve clients across all regions to meet their needs.
Real Estate Business Development
Our professional team not only provides comprehensive property management services for investors and owners but also advises MNCs, large financial institutions and global investors on property management, finance and policy.
With rich experiences in handling all kinds of real estate investments and evaluating more than 1,000 listings, our professional teams will conduct a comprehensive and deep-dive assessment of the real estate for clients and propose the best solution to help client make investment and provide the most effective advice to make the most use of the real estate.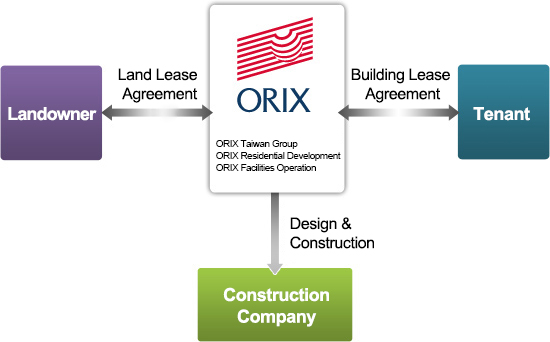 Services provided
1. Project investment business
2. Real estate development partnership
3. Real estate development and investment
4. Customized leasing business
5. Real estate integrated business
6. Real estate buying agent
7. Land and building loans
8. Project funding service
9. Value-added asset and activation
10. Beneficial interest investment of real estate
11. Real estate sale and lease back business
12. Real estate tenancy management
13. Entire building and remaining units investment management
14. Overseas real estate investment planning
15. Other real estate related business
NPL Acquisitions
Services provided
1. Financial Institution Creditor's Right Purchase
2. Financial Institution Creditor's Right(Money) Appraisal and Auction
3. Financial Institution Creditor's Right(Money) Management and Services
4. Account Receivable Purchase Business
5. Individual Creditor's Right Integration Business
6. Corporate Creditor's Right Integration Business
7. Foreclosure Investment
8. NPL Project Finance
9. Provide debt recovery and collection strategy advisory services
10. Recovery, compulsory execution and legal services of NPLs.
11. Professional accounts receivable collection service entrusted by major AMCs.