With its HQ based in the largest city of Asia - Tokyo, ORIX Taiwan Corporation has been deeply involved in the Taiwanese market and is able to provide the optimal service "One-Stop Service" that Japanese enterprises need to enter the Taiwanese market.
1. Providing business development in Taiwan and related supports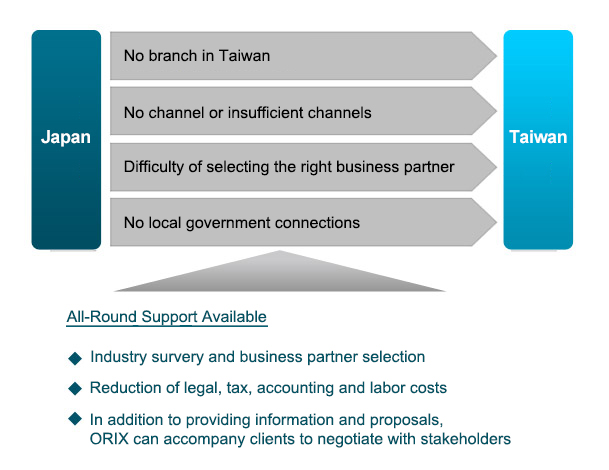 Examples of support
Provide construction machinery manufacturers and working mother machine manufacturers with financial services and introduce them to local customers.
Connect human resource outsourcing companies with analytical instrument manufacturers to help solve human resource problems.
Introduce real estate listings to manufacturing and retail industry and provide funding for building projects.
2. Local Business Support in Taiwan
Credit investigation on local legal representative of Taiwan
Do not depend on credit investigation result from the parent company. Conduct credit investigation on local representative and sales target.
ORIX Taiwan Corporation conducts credit investigation within a designated loan amount, thus is able to respond to clients' needs in real-time.
Diversified transaction and contracting options
Avoid exchange rate risk and tax withholding with long-term loan and fixed interest rate.
Flexible currency options for leasing business: TWD, JPY, USD.
Provide rich and wide-spread intelligence network
Offer various information with many years of local efforts and financial service experiences.
Introduction of capital movement channels.
Support setting up factories or offices (recommend interior decorating companies, real estate agents, HR outsourcing companies, etc.)